contact
Address:







Telephone:

Email:

Website:

Castlegar House and Stables,
Ahascragh,
Ballinasloe,
County Galway,
Ireland.



+353 (0)90 9688653

www.castlegarstables.com
Directions by road :
Directions are from the M4/M6 which travels across Ireland from Dublin in the East to Galway in the West. Coming East from Dublin to Galway, pass through Ballinasloe heading West and just west of the town, there is a turn off to the left, Ballinasloe, West. It is an exit off the motorway. Coming from Galway heading East, pass through Aughrim, which is east of Loughrea, and just West of Ballinasloe Town, is the same turnoff of the M6. In both cases proceed down to the Aughrim road access off the roundabout, and go down about a mile to the Ahascragh road. Proceed down the Ahascragh road approximately 8 miles, where you approach Ahascragh from the south. Proceed into town, straight up into the middle when you will come across a Statoil petrol(gas) station and Londis shop on on the right. Turn right at the Statoil station on a small road called Church Avenue. Proceed down this road past the Church of Ireland St. Katherine's church on the left. About a mile down the road you will come to a house/gate lodge on your right. Directly across from the gate lodge are the entrance gates to Castlegar House and Stables. Proceed through the gates and down the long avenue, continuing ahead as you reach the old tarmac portion of the road, and when you again reach the gravel part of the drive, turn left just as you see Castlegar House ahead, and proceed ahead into the Stables, parking in front of the building ahead of you.
* * * * *
Enquiry form :
* * * * *

Take a 360° Virtual Tour: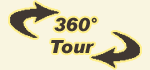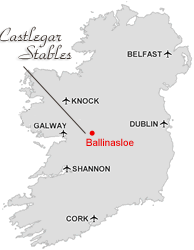 Travelling by Air :
Castlegar Stables is accessible by a number of airports - Galway City Airport (40 minutes drive), Knock Airport in Co. Mayo (1 hour drive), Shannon Airport in Co. Clare (under 1 hour 30 minutes drive) and Dublin Airport (2 hours drive)
Aer Arann flies to Galway Airport from Lorient, Luton, Manchester, Birmingham, Edinburgh & Dublin.
see website >>
Aer Lingus flies to Dublin and Shannon Airports from North America and most major European cities.
see website >>
Ryanair flies to Shannon and Knock Airport.
see website >>
Continental, American, US Air, and Delta all fly from the USA to Dublin and Shannon Airports.