Enquire about availability:

Take a 360° Virtual Tour: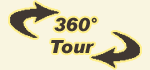 Contact details:
Tel: +353 (0)909 688 653
Email: info@castlegarstables.com

Welcome to Castlegar Stables, in County Galway, Ireland. Located in the heart of Hunt country, it is rurally situated in a quiet setting a couple of miles down the avenue from the small village of Ahascragh. Well located to tour around many parts of the Midlands and the West of Ireland, Castlegar Stables is 2 hours from Dublin, 1½ hours from Shannon, 1 hour 10 minutes from Knock and 40 minutes from Galway airport.

The self catering B & B is set in Castlegar House's stable block, built in 1815 by the same architect who built the house, Sir Richard Morrison, and has been comfortably converted and restored into two apartments. The two living areas have open fires from which the lovely smell of peat burning reminds one of a quieter life.
* * * * *